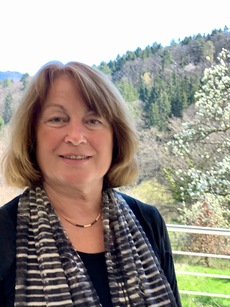 Prof. Dr. Andrea Hartwig
Karlsruher Institut für Technologie (KIT)
Institut für Angewandte Biowissenschaften
Abteilung für Lebensmittelchemie und Toxikologie
Gebäude 50.41 (AVG)
Adenauerring 20a
76131 Karlsruhe

Sekretariat Sonya Schlander

+49721 608 42133

Academic Training
1996 Habilitation
University of Bremen, Biochemistry
1987 Ph.D.
University of Bremen
1984 Diploma, Chemistry
University of Bremen
1977 - 1984 Study of Chemistry
University of Bremen
Scientific Career
since 2010 Full Professor (Food Chemistry and Toxicology), Karlsruhe Institute of Technology (KIT)
2004 - 2010 Full Professor (Food Chemistry), Technical University Berlin
1998 - 2004 University Professor (Food Chemistry), University of Karlsruhe
1988 - 1998 Scientific Assistant, University of Bremen
1986 Research stay at the "Institute of Environmental Medicine",
Sterling Forest, New York, in the laboratory of Prof. Rossman
Main Research Areas
Impact of carcinogenic metal compounds, metal-based nanoparticles, essential trace elements and bioactive food ingredients on the stability of the genome:


DNA damage
Interactions with the cellular response to DNA damage (DNA repair systems, cell cycle control and tumor suppressor functions)
Interactions with the redox regulation of signalling pathways


Interactions between toxic and essential metal ions

Oxidative stress
Offers, Honours, Awards and Special Recognitions (selection)
2018 Toxicology Award of the Society of Toxicology (GT)
2009 Offer of a Full Professorship "Nutritional Toxicology" at the University of Potsdam (declined)
2008 Innovation Award 2008 of the "Deutsche Gesellschaft für Arbeits- und
Umweltmedizin e.V." (DGAUM), for the development of concepts for occupational
exposure limit settings
2008 Nomination as Chair of the "Permanent Senate Commission for the Investigation of Health
Hazards of Chemical Compounds in the Work Area" (MAK-Commission)
2006 Award of the "Gesellschaft für Umwelt-Mutationsforschung" (GUM)
Membership in Scientific Committees
since 2018 Member of the Central Committee on Biological Safety (ZKBS) in Germany
since 2007 Chair of the "Permanent Senate Commission for the Investigation of Health Hazards of
Chemical Compunds in the Work Area" (MAK-Commission)
2010 - 2014 Chair of the German Society for DNA Repair (DGDR)
since 2007 Member of the "Scientific Committee on Occupational Exposure Limits" (SCOEL)
2010 - 2013 Member of the "Human biomonitoring commission" of the Federal Office for Environment, Germany
2007 - 2012 Member of the Scienitific Advisory Board of the Federal Institute for
Risk Assessment (BfR), Germany
2010 - 2011 Expert for the European Food Safety Authority (EFSA)
since 2004 Member of several working groups of the "International Agency for Research on Cancer " (IARC)
Selected Publications
Piberger A. L., Krüger C., Strauch B. M., Schneider B., Hartwig A. (2018) BPDE-induced genotoxicity: relationship between DNA adducts, mutagenicity in the in vitro PIG-A assay, and the transcriptional response to DNA damage in TK6 cells. Arch Toxicol. 92, 541-551.
Strauch B.M., Niemand R.K., Winkelbeiner N.L., Hartwig A. (2017) Comparison between micro- and nanosized copper oxide and water soluble copper chloride: interrelationship between intracellular copper concentrations, oxidative stress and DNA damage response in human lung cells. Part Fibre Toxicol. 14:28.


Fischer BM, Neumann D, Piberger AL, Risnes SF, Köberle B, Hartwig A (2016) Use of high-throughput RT-qPCR to assess modulations of gene expression profiles related to genomic stability and interactions by cadmium. Arch Toxicol. 90, 2745 - 2761.


Krüger CT, Hofmann M, Hartwig A (2015) The in vitro PIG-A gene mutation assay: mutagenicity testing via flow cytometry based on the glycosylphosphatidylinositol (GPI) status of TK6 cells. Arch Toxicol. 89, 2429-2443.


Hartwig, A (2013) Metal interaction with redox regulation: An integrating concept in metal carcinogenesis? Free Radical Biology and Medicine, 55, 63 – 72.


Beyersmann D and Hartwig A (2008) Carcinogenic metal compounds: recent insight into molecular and cellular mechanisms. Arch Toxicol, 82, 493 – 512.


Hartwig A, Pelzer A, Asmuss M and Bürkle A (2003) Very low concentrations of arsenite suppress poly(ADP-ribosyl)ation in mammalian cells. Int J Cancer, 104, 1 – 6.


Hartwig A (2001) Zinc finger proteins as potential targets for toxic metal ions: Differential effects on structure and function. Antioxid Redox Signaling, 3, 625 – 634.